7 trends at Interzum that are changing the bedding industry
Every year more than 35 million mattresses are discarded in Europe alone. What if we could go from end-of-life to end-of-use, what if waste-free mattresses would become the norm? It's great to see that the industry is embracing change and looking for alternatives. Ward Mosmuller reflects on some major trends – as seen at this year's Interzum in Cologne – that are currently accelerating the shift from a linear to a circular economy.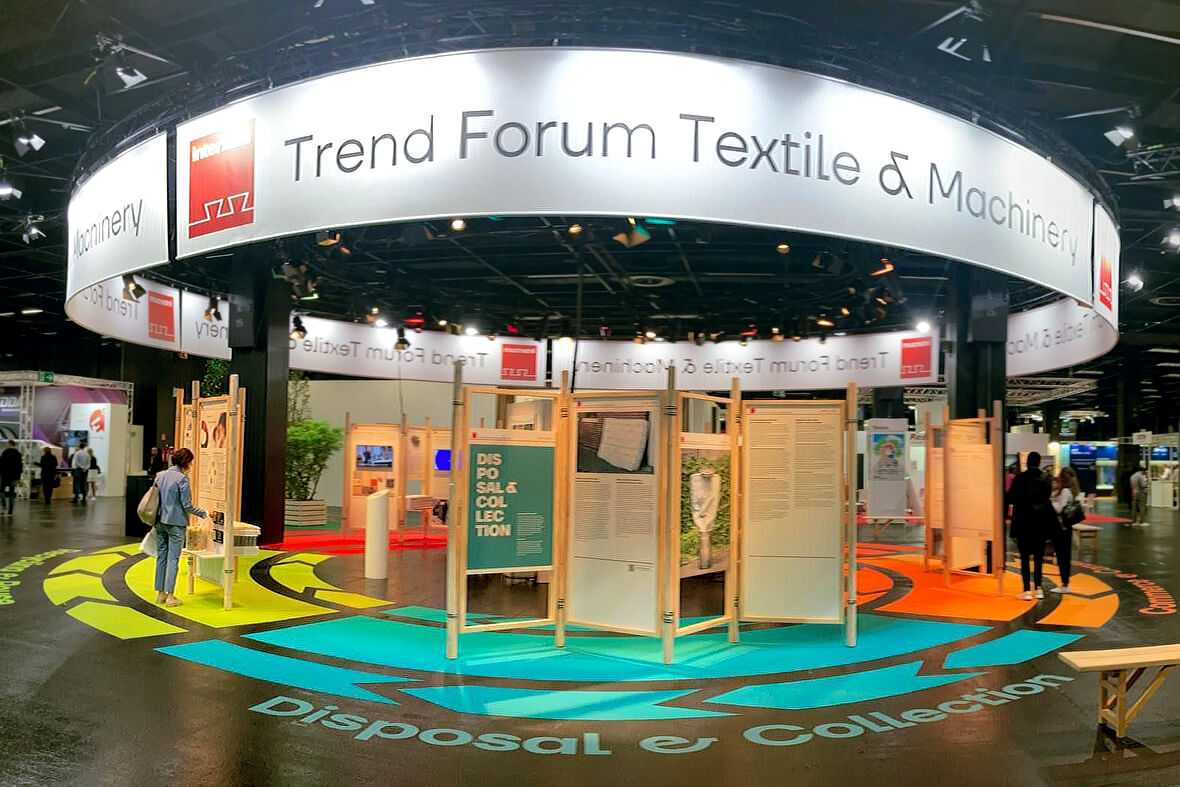 In 2018, Auping and Niaga® sparked the transition to circularity with the launch of the world's first fully circular mattress. The mattress was designed so that all its materials could be recycled and used at the same high-quality level again and again.
At this year's Interzum, we were thrilled to experience the enormous drive within the bedding and textiles industry to make the shift towards more sustainable or circular solutions. Minimizing waste and recycling are becoming key. In fact, all over, manufacturers and material suppliers – including ones like Covestro – are developing initiatives that are looking into waste recycling options.
From linear to circular: 7 key industry trends
Interzum gave visitors some great insights into initiatives and best practices for circularity when it comes to mattress design, production, reuse and recycling.
Here's 7 key trends that are driving new developments in the bedding industry:
Recognizing the economic value of raw materials
Industry players are recognizing that bedding materials trashed at end of use, equals loss of potential economic value. They are looking for ways to apply, use and recycle materials in such a way that they retain their intrinsic properties and value. So that materials can be used infinitely, not trashed.
A great example is Spaldin/Natural Sleep – one of the Niaga® mattress frontrunners – who've put the spotlight on how they 'participate in this global change and in the way we consume resources' on their website.
Do not mix!
There's a growing awareness in the bedding and textiles industry that mixed materials are the biggest obstacles for reuse or recycling. Reason why the focus is on using infinite mono-materials in such a way that they can be separated in their own material streams at end of use of a product. This enables recycling and reuse of such infinite materials for same quality bedding products.
Beyond sustainable production
We see that most manufacturers (and suppliers) have sustainable options in their product portfolio. Such change is mostly driven by existing legislation regarding sustainable production. But, what is often lacking, is the next step towards a circular economy: ensuring that products and materials are returned at end of use.

The great news is that in some regions the bedding industry is taking significant steps by setting up their own voluntary return and recycling schemes. In this way, they're staying one step ahead of new legislation (such as the mandatory Extended Product Responsibility). A good example is the Netherlands, where the industry is already actively working on taking back materials for reuse and recycling.
Sustainable nights – meeting consumer demand
Of course, moving towards a sustainable product portfolio is no easy feat. Yet, we see an increasing number of companies take the leap and launch not one, but several sustainable, circular products. The great news here is that the feedback they're getting from the market is extremely positive!

Paving the way in this regard is Revor, who last year moved to making a significant part of their product portfolio circular. Of course, that's a huge step and (as yet) beyond the reach of many manufacturers. However, more bedding specialists are sure to follow fast.
Introduction of fully circular bedding components
The shift towards circularity is not only limited to mattresses. We were thrilled to collaborate with BekaertDeslee, who presented their all-polyester, mono-material, fully recyclable and refurbishable mattress cover.

It takes the search for circular solutions a big step forward: from mattresses to other bedding textiles and products. The cover boasts the scannable Niaga® tag – that was showcased in several stands during Interzum – that provides products a return route so that they don't end up as trash. What's more, the unique, per product QR label on the BekaertDeslee cover, (made possible by TripleR) opens up interesting opportunities for manufacturers to be fully transparent regarding ingredients or materials used at individual product level.
Closing the loop – beyond competition
Reusing and recycling materials to be remade into new, highest quality bedding products is only possible if there's a take-back and recycling infrastructure in place. Unfortunately, this is still lacking in many countries. Auping, together with partners in the material supply chain and recycling industry, recently achieved a milestone by improving their Auping-Take-Back system and successfully setting up a recycling ecosystem that closes the loop! What this teaches us is that a manufacturer cannot do this on his own. Collaboration is essential for success. 'Better together' is the way forward.
Recycled content instead of virgin materials
Another extremely positive trend that we're seeing is that suppliers of bedding materials are also focusing on clean and infinite materials. A good example is Muller Textil who're looking to use a larger volume of recycled content in their products. This means less use of virgin materials! In an ideal circular world, the industry will only use recyclable materials that can be recycled multiple times for use as bedding or textile material.

All in all, Interzum's Trend Forum was a great initiative by Julia Mauer and möbelfertigung to showcase circularity and give manufacturers the opportunity to explain how the industry is working together to close the loop. At Niaga® we're convinced that such a shared effort is what is needed to enable the shift towards circularity and safeguard the intrinsic properties (and value) of materials.

Together with our partners across the industry, we continue our journey towards creating truly circular solutions. By using clean and infinite materials, that can be reused and recycled ad infinitum. Materials that offer the best quality sleeping comfort while safeguarding our own health and that of our planet. Are you ready to embrace the circular challenge? Let's talk! Call me: +31 63089352 or send an e-mail: ward.mosmuller@covestro.com