Covestro Netherlands' headquarters in Geleen officially opened
Our mother company Covestro officially opened its Dutch headquarters in a new office building on the Brightlands Campus in Geleen. Since the acquisition of DSM's resins and functional materials business in April 2021, Covestro has become well established in the Netherlands: with around 800 employees working at major R&D sites and production facilities across six sites, and a stake in two joint ventures.
The choice for locating Covestro's headquarters in Geleen was a conscious one: "The Brightlands Campus is a great location, where business meets innovation and where talent & knowledge come together in a unique ecosystem. The ideal place to continue growing with our innovative and sustainable materials. We are here to stay!", explains Jacqueline Kusan-Bindels, site manager for Covestro in Geleen.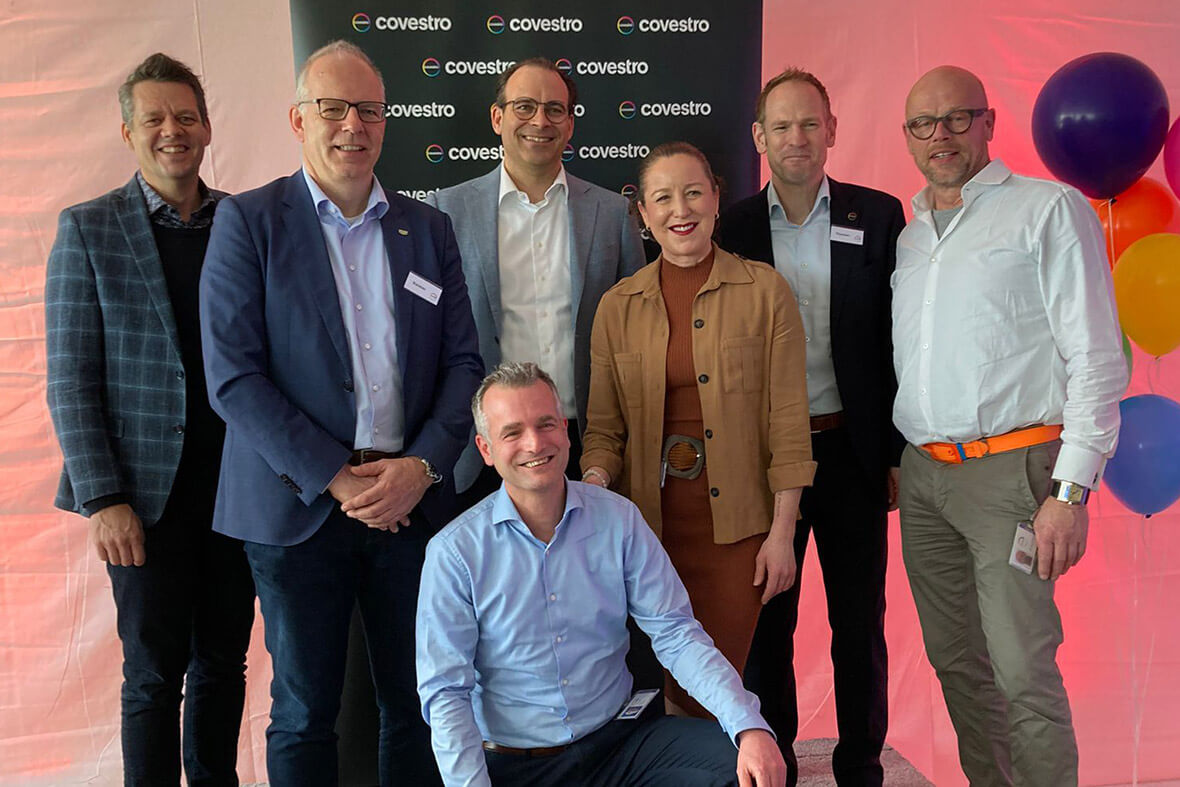 Innovation at its best
Covestro has a solid reputation of leadership and innovation in the world of high-tech materials. At the same time, the company is a pioneer in sustainability and the circular economy.
"Covestro's Dutch activities fit perfectly into this sustainability picture. Our main focus is on applications for coatings and adhesives. Our sustainable, plant-based Decovery® portfolio, holds the promise of solvent-free paints. Similarly, our UV, energy efficient and solvent-free resins for flooring and printing applications, are leading, sustainable technologies," according to Aukje Doornbos, Managing Director Covestro for the Netherlands.
Niaga® - one of Covestro's innovation ventures
But there is more. With its coating technology for fibre optic cables, Covestro Netherlands is one of the world's leading suppliers to the fibre optic market. Additionally, the Netherlands is also home to three important innovation-focused growth businesses.
In Zwolle, Covestro produces biodegradable coatings for seeds in the Amulix joint venture. In Geleen, the production of anti-reflective coatings increases the efficiency of solar panels by more than 3% and, last but certainly not least, there is Niaga®.
Fully geared towards enabling what it takes to fulfill the promise of a truly circular economy, at Niaga® - and together with our partners - we design products for reuse. So that they don't get trashed. Our unique 'click-unclick' adhesive makes it possible to separate different components or materials used in products and take them back for recycling at end of use. The scannable Niaga® tag on products provides ingredient transparency and the return route that enable reuse, refurbishment and recycling.
Circular office environment
Of course, the new office in Geleen is fitted with Niaga® tagged products. On the floor you'll find mono-material, fully recyclable NEOO carpet made by our partner Object Carpet. The office is also equipped with desks designed and produced by Fair Furniture Group. The laminated surface of the desktops can be easily removed and replaced when showing signs of wear or tear. Finally, the paint used on the walls is a bio-based wall paint with air-purifying properties, based on Covestro Decovery® binder.