Covestro Zwolle showcases Niaga® designs for circularity
A great milestone! Covestro Zwolle is proudly showcasing exciting new Niaga® designs for circularity. Thorsten Dreier, Covestro's EVP - Head of Coatings & Resins, was present to do the festive commissioning.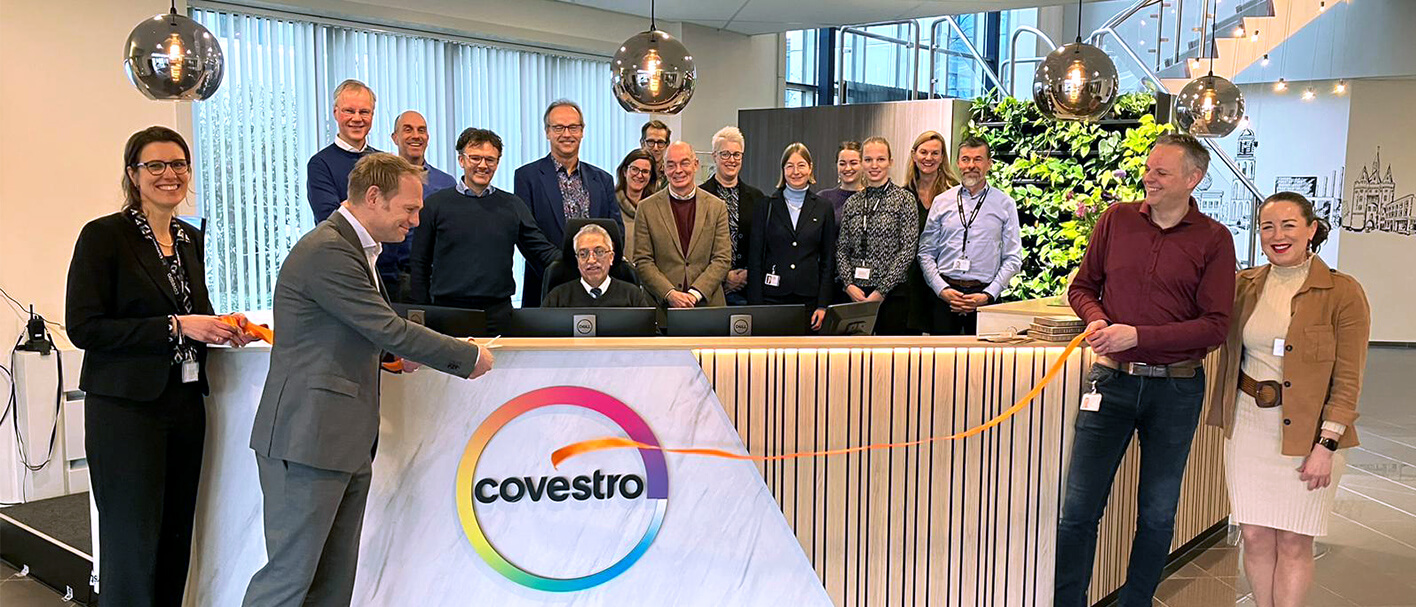 In front of the desk, from left to right: Japke ten Have, Thorsten Dreier, Michel Tichelaar and Kelly Hall
In the Zwolle office area a new reception desk and kitchens - created by Van Aagten Projectrealisatie – are featuring our refurbishable and recyclable panels. Underfoot, on the office floor, the recently launched NEOO mono-polyester carpet tiles have been laid. Made by Object Carpet on their newly acquired Niaga® production line. Both panels and carpet carry the Niaga® tag enabling transparency and return.
"We've come a long way since our very first contacts with Niaga. It's been an intensive and extremely fruitful collaboration in which transparency and sharing know-how have been key. We're particularly proud that our very first carpet designed for circularity, which really closes the loop – NEOO carpet – was the carpet of choice for use in this Covestro office."
Jan-Willem Kok, Sales Director BeNeLux & France at Object Carpet
"Our mission to design out waste echoes Covestro's aim to become #fullycircular. It's a transition that calls for collaboration throughout supply chains and even across industries. So, it's great to see how we've got two disciplines – carpets and panels – together here!"
Kelly Hall, Managing Director at Niaga
A big thank you to all colleagues involved for making this milestone possible!