Thank you for checking in
Did you know that most recycling is actually downcycling? Ultimately, materials still end up as waste. This, however, is not necessary at all. Design for reuse is possible.
That's why Niaga's beacon for a circular economy at the Salone del Mobile is calling upon all designers to join the movement to design to use again.
The bright-orange color of the mirror box at this year's Salone in Milano (5-10 September) is signaling that now more than ever, we need circular products to create a waste free world. Step inside to experience the wonder of infinity yourself. Join the movement by sharing your infinite self(ie) in the mirror box using #designtouseagain
"Our installation at Stecca 3 invites visitors to take a step towards the infinity of materials and calls upon all designers to design to use again and again and again" -Sascha Bloemhoff, marketing director Niaga®
Better together
Together with our partners, Niaga® is working hard to create products that will never become waste. We redesign products from scratch with clean and infinite materials and reversible connections only. By taking responsibility for the entire use cycle of a product, we can keep valuable materials in the loop to design out waste completely. The Niaga® tag enables users to check what's inside their products and return their product when they're done using it.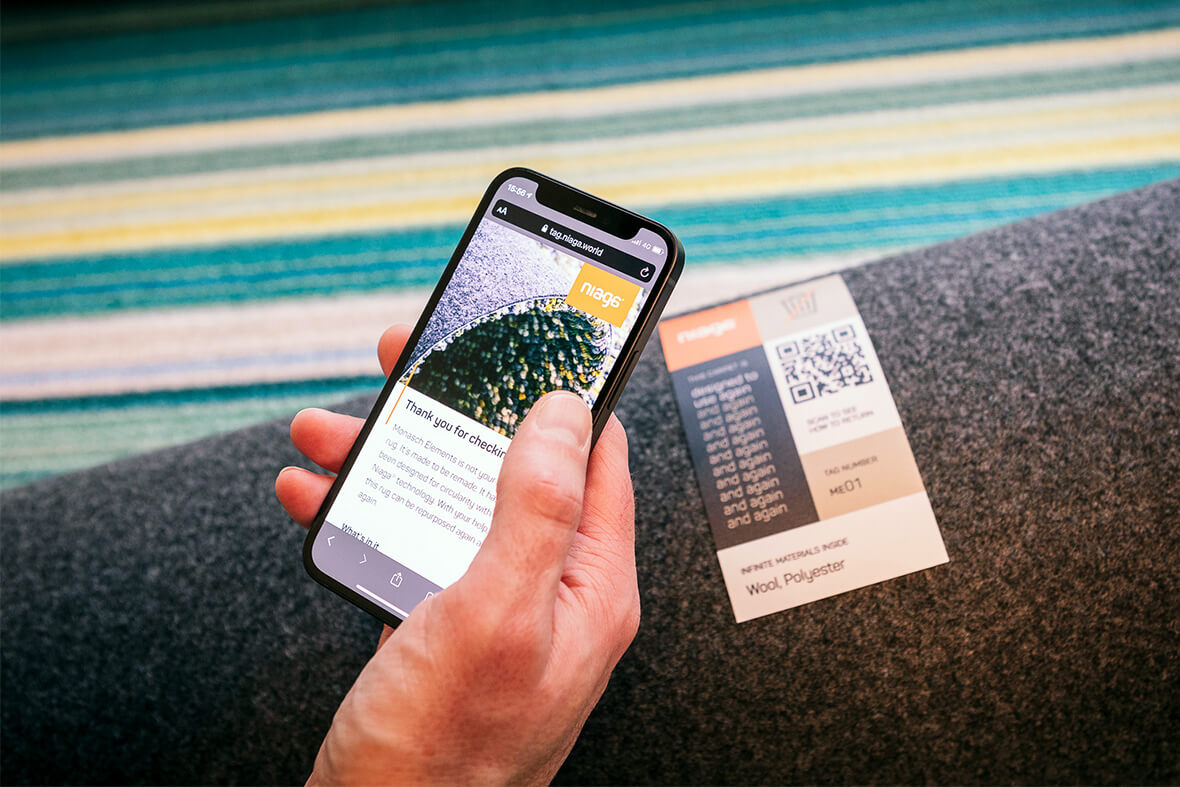 Design to use again
As part of the Cooloo Circular Canopy many artists and designers have worked hard to envision the infinite value of materials. Together, we are part of the global movement that's needed to move towards a circular economy. So materials don't end up in the trash. Ever.
Return is key
A recyclable product that isn't returned won't be recycled. That's why enabling return is the cornerstone of a circular economy. By returning your product, you are safeguarding the valuable materials inside for future generations. When scanning the Niaga® tag on your product, you'll see exactly what it's made of and how it can be returned.
Check for yourself
Want to see Niaga®-tagged products that are designed for reuse? Visit Best Wool or Cooloo Circular Canopy which are part of the Dutch Pavilion / Masterly to see fully circular carpet and panels that are already available and for sale. Join the movement, step into the mirror box and share your infinite self(ie) with #designtouseagain
BOILERPLATES
Niaga®
At Niaga®, we are future-proofing everyday products by making sure materials don't have to end up as waste. Ever. Together with our partners, we design out waste, completely. We design to use again. It makes products healthier and fully recyclable. So far, we have developed mattresses, carpet and furniture panels that are healthier and fully recyclable without compromising on performance. By scanning the Niaga® tag, you'll see exactly what a product is made of and how it can be returned. More product redesigns are underway. #niagatag
Visit www.dsm-niaga.com for more information and visual material or contact:
Sascha Bloemhoff, Marketing Director
Sascha.bloemhoff@dsm-niaga.com
+31 (0)6 20015064
Cooloo Circular Canopy
Cooloo Circular Canopy is an initiative of Dutch designer Thed Konings in co-creation with Cooloo, a company that develops ecological coating solutions suitable within the circular economy. Together with many partners and designers, they create art and design objects based on sustainability, circularity, and zero-waste. Cooloo Circular Canopy aims to inspire international companies and designers to close the circle around sustainability at the upcoming Salone del Mobile in Milan. Closing the circle by acting circular.
Cooloo Circular Canopy, rooftop at Palazzo Francesco Turati, Via Meravigli 7, Milan.
Best Wool, Palazzo Francesco Turati, stand no. 13, Via Meravigli 7, Milan.
Masterly – the Dutch in Milano
The Dutch Design Pavilion named Masterly is situated at the Palazzo Francesco Turati and is the exclusive domain of Dutch Design at the Salone del Mobile. The Salone del Mobile is the annual international design fair. For more than 50 years this event takes place in Milan. The Salone sets the worldwide bar for exclusive design and high quality products. Masterly is an initiative of Uniquole and is organized in close collaboration with the Dutch Embassy, the consulate-general in Milan and the Milan Chamber of Commerce.
Milan Design Week / Salone del Mobile, 5 - 10 September 2021
Dutch Pavilion / Masterly - the Dutch in Milano (www.masterly.nu)
Palazzo Francesco Turati, Via Meravigli 7, Milan
Subway: Cordusio (line 1), Cairoli (line 1), Duomo (lines 1 and 3)