Niaga® partner BekaertDeslee introduces fully circular mattress cover
Today, during Interzum 2023 at Koelnmesse, BekaertDeslee proudly introduces an all-polyester, recyclable mattress cover in cooperation with Niaga® and TripleR. BekaertDeslee is the world's leading specialist in the development and manufacturing of mattress textiles, mattress covers and on trend sleep solutions, Made from just one single clean and infinite material, the cover can be recycled into same or comparable products at end of use. In this way safeguarding materials for generations to come.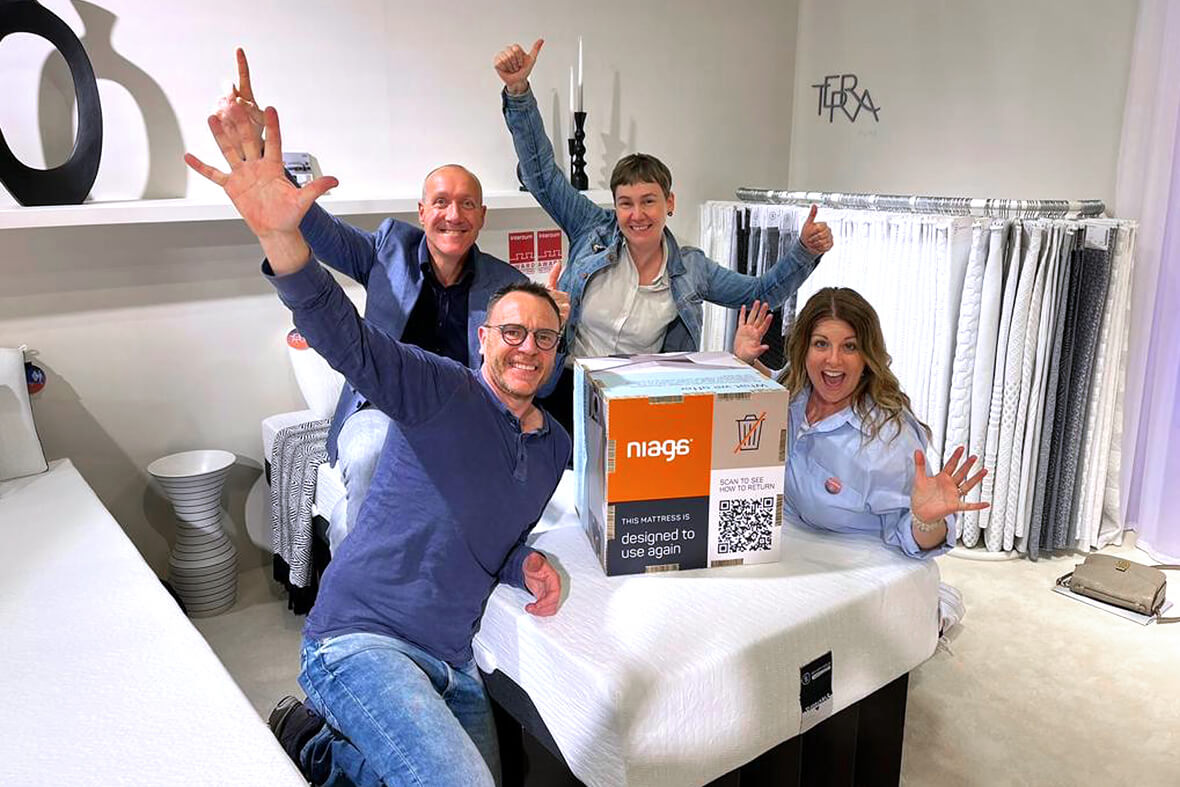 From ideation to innovative circular mattress cover
Starting with the ambition to move towards sustainable product offerings, BekaertDeslee took a courageous step when they committed to the Niaga® product design principles during the ISPA Sustainability Conference at the end of last year. Their ambition was to create a groundbreaking all-polyester mattress cover.
Based on a so-called letter of intent, they quickly moved forward, partnering with Niaga® to design the cover and have it tested and approved by material experts regarding its recyclability.
Better together
With the introduction of their 100% polyester mattress cover made for circularity, BekaertDeslee underlines the power of 'better together'. Using the Niaga® tag on their mattress cover products provides the ingredient transparency needed for reusing and recycling materials into new, highest quality mattresses or textiles. The QR label on the Niaga® tag, which is unique per cover, has been made possible by TripleR. Enabling digital identification at item level, it keeps designers, manufacturers, retailers, consumers, collectors, dismantlers and recyclers updated on a product throughout its lifetime.
"Sustainability for us is no longer a choice. And we need to do even more if we want to create a better tomorrow. Circularity is what we are aiming for. But to achieve this, we need to work together in the value chain. Our successful collaboration with Niaga® and TripleR has set us on the road to making a real difference in managing, reusing and recycling materials."

Hans Kreemers, Sales Group Manager at BekaertDeslee
About BekaertDeslee
BekaertDeslee is the world's leading specialist in the development and manufacturing of mattress textiles, mattress covers and on trend sleep solutions. With innovation at the heart of our company and sustainability being a mindset in everything we do, we take our responsibility to make a difference for the future. To improve the lives of many, for generations, enabling the planet to sleep better.
About Niaga®
At Niaga®, we are future-proofing everyday products by making sure materials don't have to end up as waste. Together with our partners, we design out waste. We design to use again. So far, we have developed mattresses, carpet, and furniture panels. They are healthier and fully recyclable, without compromising on performance. Scan the Niaga® tag on our partners' products and see what they are made of and how they can be returned. More product redesigns are underway. Niaga® is part of Covestro. 
About TripleR
TripleR is a Circularity Enabler for the Bedding Industry. Through Digital Identification of products that are linked to a Cloud Platform, all stakeholders stay connected throughout the lifetime of the product. At the end of its life, every bedding product can now be sorted and dismantled into its components and be reused or recycled into brand-new products.
Contact Niaga®
Sascha Bloemhoff
Marketing Director
Sascha.bloemhoff@covestro.com
+31 6 2001 5064