DSM-Niaga becomes Covestro Niaga
April 2021 – Covestro AG acquires the Resins & Functional Materials business (RFM) from Royal DSM. This includes a strong brand in terms of sustainability: Niaga®.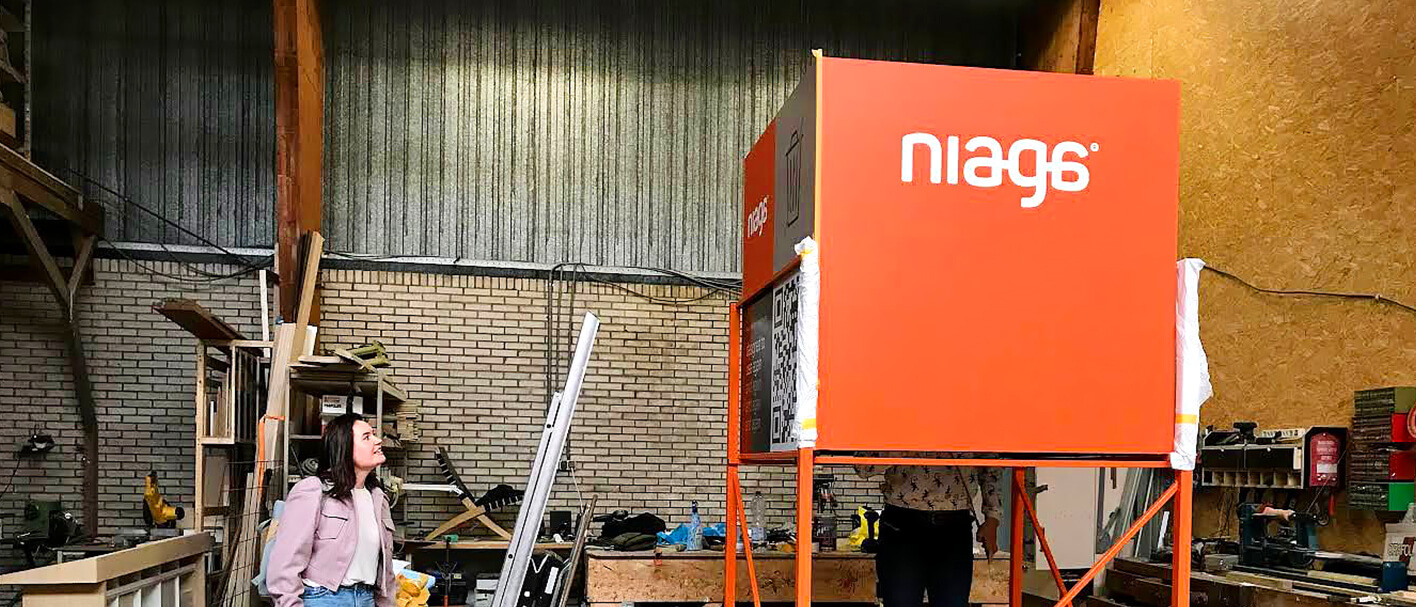 The mirror box in the making at Studio Rowan Siriram.
At the world-renowned Milan Design Week, we are part of the
CooLoo Circular Canopy
. We thank CooLoo, Dutch Pavilion Masterly and Isola Design District for their collaboration and making this into such a success. Also, a big thank you to our much-valued partners:
Best Wool
,
Royal Auping
, and
Louis de Poortere
.
"This is an important step to drive innovation for the transition towards a circular economy." -Dr. Markus Steilemann, CEO of Covestro
On the way to circular – designing out waste
Niaga® (Again spelled backwards) was founded by Chris Reutelingsperger in 2014. He believes that the way we deal with waste was and is no longer feasible. "At the time, I didn't know what a circular economy was," confesses Reutelingsperger. "Until it turned out that I had been working on it for years: seeing waste as a valuable raw material."
2014 sees the founding of the joint venture DSM-Niaga. The focus is on jointly developing scalable technology for a fully recyclable carpet. DSM brings in the missing piece of the puzzle: a polyester hotmelt, click-unclick adhesive. The goal is not to start producing carpet as DSM-Niaga, but to redesign products for circularity and provide a B2B model, in which technologies and materials that enable the production of circular products are sold to manufacturers.
That same year, DSM-Niaga successfully develops a unique, fully recyclable carpet. All layers that make up the carpet – backing, adhesive and top – are made from a single material: polyester. These layers are stuck together with the reversible, click-unclick adhesive produced by DSM. The all-polyester carpet brings with it the added benefit of improved indoor air quality, and the use of less water and energy in the production process.
First frontrunners in the carpet and mattress industries
In 2017, DSM-Niaga partners with Mohawk, the second-largest flooring manufacturer in the US, and the first company to incorporate the Niaga®️ system into its own production processes. At the same time, the focus is expanded to redesigning everyday products (such as mattresses and panels) to enable reuse of materials without compromising on price, performance and scalability.
Soon, leading Dutch mattress manufacturer Auping and DSM-Niaga join forces to develop the world's first-ever mattress designed for circularity. Made from two materials only – polyester and steel – the mattress is a revolution in the mattress industry: offering best sleeping comfort, while safeguarding valuable materials for future generations.
Simultaneously, frontrunner partners in the carpet industry successfully develop carpets which can be recycled in an effective and economically viable way. Made from either pure polyester or a mix of polyester and polyamide 6, or wool, the different carpet layers can be separated for recycling.

Return is key
In the realization that a product designed for circularity is only truly circular if it gets returned for repair, reuse and recycling, we introduced the Niaga® tag. Found on all products that have been designed and manufactured in keeping with our circular design principles, the scannable label makes it easy for consumers to see how a product can be returned for recycling. It also tells recyclers what a product is made of for optimal recycling. It's how Niaga® – together with value chain partners – ensures that valuable materials can be used again and again.
Covestro Niaga®
With the backing of parent company Covestro, Niaga® looks to increase the number of frontrunner partners who are eager to embark on the road to a circular future, with products designed to use again and again.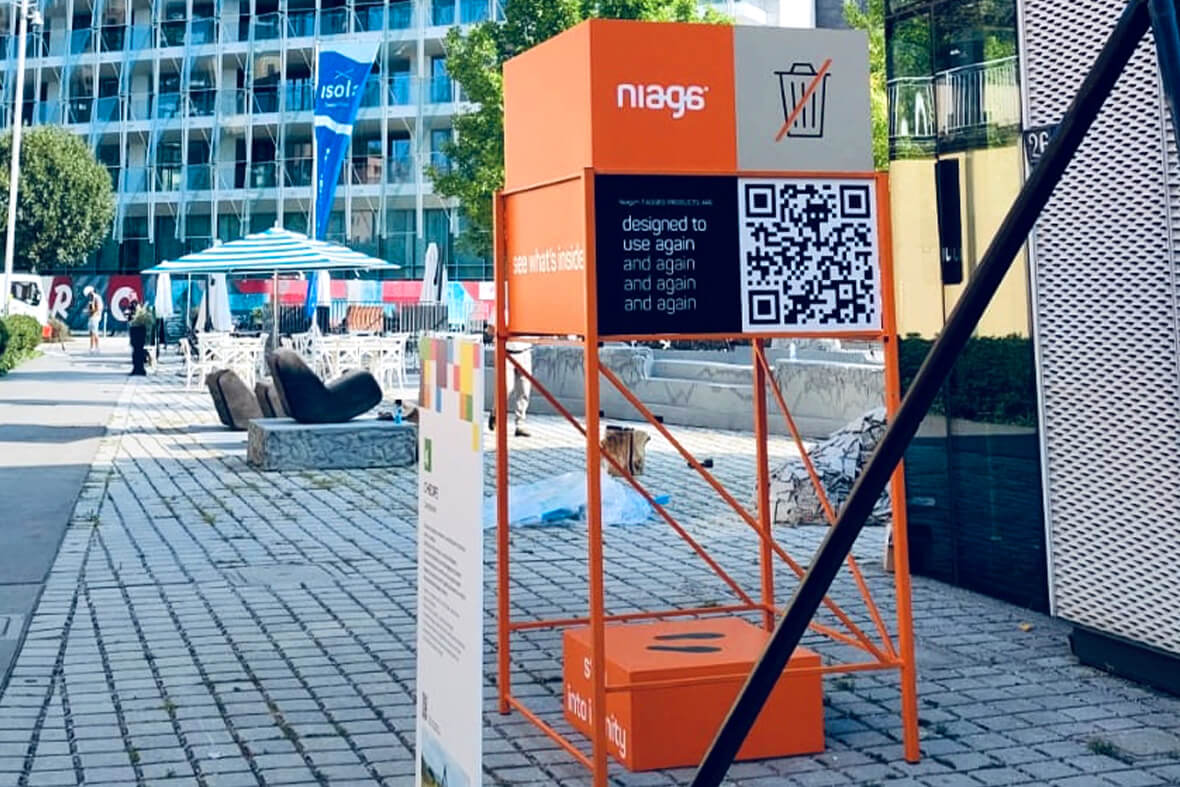 The mirror box at Cooloo's Circular Canopy at Stecca 3.0, Isola Design District.
BOILERPLATES
Niaga®
At Niaga®, we are future-proofing everyday products by making sure materials don't have to end up as waste. Ever. Together with our partners, we design out waste, completely. We design to use again. It makes products healthier and fully recyclable. So far, we have developed mattresses, carpet and furniture panels that are healthier and fully recyclable without compromising on performance. By scanning the Niaga® tag, you'll see exactly what a product is made of and how it can be returned. More product redesigns are underway. #niagatag
Visit https://www.niaga.world for more information and visual material or contact:
Sascha Bloemhoff, Marketing Director
Sascha.bloemhoff@covestro.com
+31 (0)6 20015064
Cooloo Circular Canopy
Cooloo Circular Canopy is an initiative of Dutch designer Thed Konings in co-creation with Cooloo, a company that develops ecological coating solutions suitable within the circular economy. Together with many partners and designers, they create art and design objects based on sustainability, circularity, and zero-waste. Cooloo Circular Canopy aims to inspire international companies and designers to close the circle around sustainability at the upcoming Salone del Mobile in Milan. Closing the circle by acting circular.
Masterly – the Dutch in Milano
The Dutch Design Pavilion named Masterly is situated at the Palazzo Francesco Turati and is the exclusive domain of Dutch Design at the Salone del Mobile. The Salone del Mobile is the annual international design fair. For more than 50 years this event takes place in Milan. The Salone sets the worldwide bar for exclusive design and high quality products. Masterly is an initiative of Uniquole and is organized in close collaboration with the Dutch Embassy, the consulate-general in Milan and the Milan Chamber of Commerce.
Milan Design Week / Salone del Mobile, 5 - 10 September 2021
Dutch Pavilion / Masterly - the Dutch in Milano
Palazzo Francesco Turati, Via Meravigli 7, Milan