Towards developing waste-free carpets – Best Wool and Niaga® partner in building a circular future
Today we are excited to announce the partnership between Best Wool and Niaga®, introducing innovative technology for carpet production that points the way towards a circular future.
Best Wool and Niaga® share the ambition to protect the valuable materials used in woollen carpets and rugs. Their goal is to ensure eventually nothing ends up as waste. Innovative Niaga® technology enables a vastly more energy efficient production process than currently used in conventional carpet manufacturing. What's more, the Niaga® click-unclick polyester adhesive, that will be used, allows separation of the woollen top layer from its polyester backing at the end of a carpet's lifecycle. At the same time, Best Wool and Niaga® continue to collaborate closely in optimising the separation and reuse of the wool and polyester.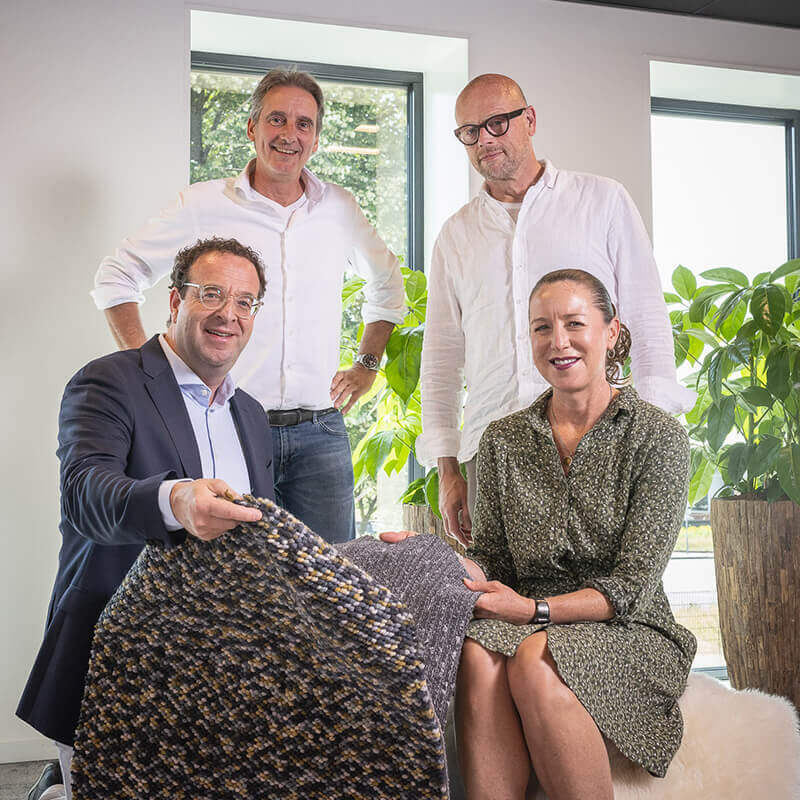 Starting from the bottom left, clockwise: Yvar Monasch, Frank Conrad (Best Wool), Chris Reutelingsperger and Kelly Hall (Niaga®)
Cutting back energy usage by 90%
One of the biggest milestones of the partnership between Best Wool and Niaga® is the introduction of an energy efficient production process never seen in carpet manufacturing. This new carpet production technology with Niaga® click-unclick polyester adhesive does not use any gas or water. In addition, it consumes only 10% of the energy required by conventional carpet backing methods, thereby also significantly cutting back on carbon emissions in the production of carpet. This breakthrough in the carpet industry comes at a time when energy costs and the cost of reducing carbon emissions are affecting producers around the world.
Best Wool's unique 5-meter-wide production line with innovative carpet manufacturing technology will be set up at its production location in Best, the Netherlands. Concurrently, Best Wool and Niaga® are collaborating on the development of technology for separation, recycling and re-use of wool and other materials. The recycling line is expected to be up and running within 3 years. The new production facility, as well as the joint development on material separation technology for wool and polyester has been made possible with the support of the Dutch Ministry of Economic Affairs (RVO).
Retaining each material's value
Due to the complex combination of materials glued together for eternity, materials used inside a conventional carpet are hard to re-use at the end of life. By joining forces, Best Wool and Niaga® aim to minimise waste and protect the value of materials in woollen carpets and rugs.
The Niaga® click-unclick adhesive allows for separation of the woollen top layer of a carpet from its polyester backing at the end of the carpet's lifecycle. It's no longer required to use binders and fillers that make materials inseparable and hinder recycling. Once the material separation technology has been developed, it will become possible to create a stream of wool and a stream of polyester materials that can be repurposed: each material in the best way.
"At Best Wool we consider the creation of a closed loop carpet as a journey which takes time. Designing woollen carpets and rugs for material re-use starts with the end in mind. We're collaborating closely with Niaga® to see how products need to be designed for circularity. What's more, ingredient transparency is needed to enable return and reuse of materials" explains Yvar Monasch, CEO of Best Wool.
He adds: "Even with this work requiring more time and effort, we firmly believe that today's linear economic model is not sustainable. The industry needs frontrunners who show the way and make first steps. We're proud to be taking these important and essential steps towards a circular future. Because we consider sustainable production methods as the way forward. This is extremely important for the wellbeing of our employees, the surroundings in which we operate and the global climate challenge facing our generation."
Chris Reutelingsperger, founder of Niaga® comments: "We need to start treating materials as treasure instead of trash. Best Wool shares our vision. Our partnership will show the carpet industry it is possible to make the radical shift that is required to make carpets and rugs in a way that all materials retain their intrinsic qualities, so that nothing is wasted in the end."